About Resellme Platform​
Resellme prides in itself as the best and reliable platform that helps businesses get online visibility and in the way, generate various revenue streams through the provision of services such as web hosting, domain registration and many more.
But wait! What am i getting into ?​
Nowadays having a online presence has been the way for many companies and as such, we have witnessed many success stories. Apart from all the reasons of getting a business online there is this fact of exposing your products to a wide audience, a market not bound by geological barriers where you can buy or sell an product or service in the comfort of your home. Actually, you get a network of many potential clients.
So how does Resellme aim to aid a business in its quest to grow and expand ? Simple, by providing the following services
Domain Registration
Web Hosting
Domain Registration​
In simple terms domain registration is synonymous to registering a company. Take a domain as an identity to a person or a business, a name that is used to identify an individual or a corporate entity.It's an address that directs people to your specific location on the web. Since the web is an interconnection of computers that talk to each other having a unique name is the best way to direct people to your business. That unique name is what we can call a domain, take for example https:www.google.com is a domain just as shown below.

Web Hosting​

Files need to be saved in a place such that we can access them when people visit our domain / site.These files include images, documents or code of our website pages. This process of having files saved on another server / computer is what is called hosting! These files are required each and everytime hence being hosted on dedicated servers. The space to store the files on these servers is paid for by individuals or corporates who have websites. Likewise, Resellme has such dedicated servers which are highly secured and always online 24 hrs.
Selling domains and Hosting as a business​
With all that being said, how does one make money from or by using Resellme platform? The platform provides a spring board for starting a business that generates you income. The services discussed above such a domain registration and web hosting provides a avenue to an entreprenurial mind to profit from.
For web developers, package your services as a one stop shop were your clients dont have to get a hosting service from another supplier. Enjoy massive discounts and tailor made packages for your clients thereby giving you a leeway to make more money. Create a Reseller Account and start providing these services.
Why would you be a reseller?​
Low initial cost or capital investment required to get started or massive equipment, servers etc.
Easy to start, conduct business in the comfort of your home
So many tools and SDKs to automate the process
All the heavy lifting has been done for you. Start making money by creating a reselling account!
Creating a Reseller Account​
Browse to Resellme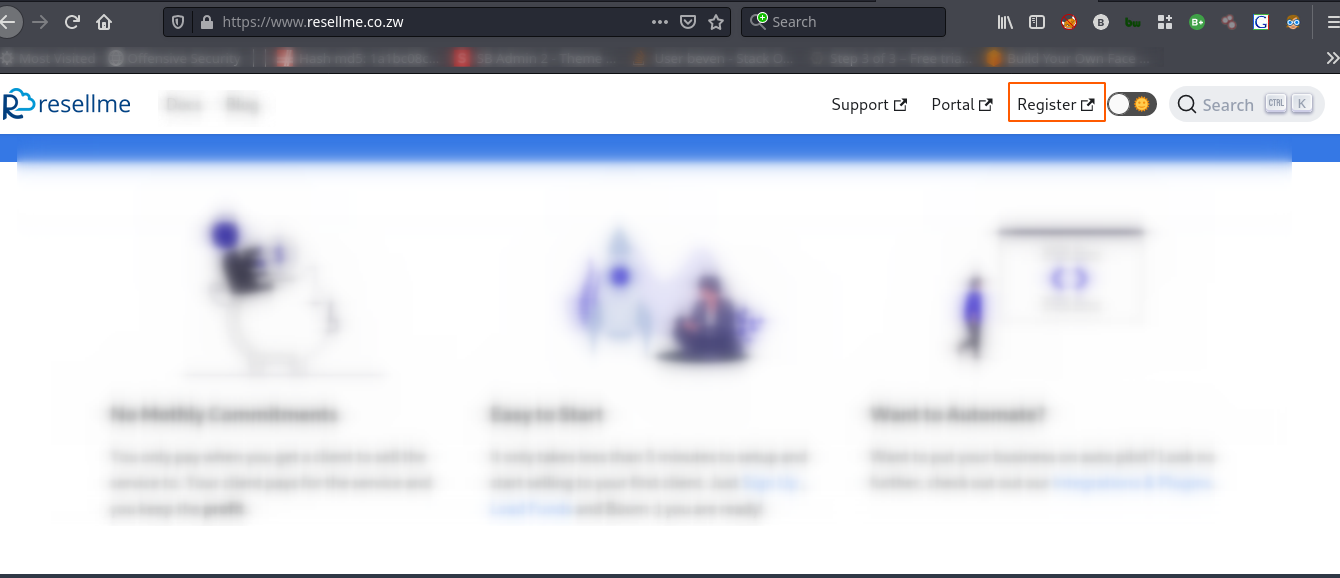 Then complete all the required information on the registration page and get started with your newly found business!
References​